The congregation of the 1st Presbyterian Church in Rathfriland is one of the oldest Presbyterian congregations in the area and dates from 1662.
Some notable events in the life of the congregation include:
1662: Foundation of the congregation.
1679: Erection of a Meeting House and the installation of the Rev Alexander Gordon as minister.
1708: Due to the number of Presbyterians in the Rathfriland area the congregation was divided into 2 congregations: Rathfriland & Ballyroney.
1711: Installation of the Rev Robert Gordon as minister, who subsequently served the congregation for 51years.
1763: Ordination of the Rev Samuel Barber as minister.
1768: Permanent lease on the property obtained from Lord & Lady Clanwilliam.
1775: Present building completed.
1787: John Wesley visited the town of Rathfriland and preached in 1st Presbyterian Church.
1790: Rev Samuel Barber appointed Moderator of the General Assembly
1798: Rev. Samuel Barber was imprisoned in Downpatrick Gaol for 2 years for alleged complicity in the 1798 Rebellion.
1863: Installation of the Rev James Wilson LL.D, who subsequently served the congregation for 47 years.
1894: Building of the lecture hall.
An excellent starting point for anyone interested in the history of the congregation is a publication entitled 'A Household of Faith' A Historical Survey of the The First Presbyterian Congregation 1662-2002. Written by Rev R. George A. Morrison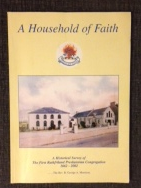 Printed copies are available on request.